Abyssal Lab
NOTE: If you play the embedded version, the game may stop reading your keyboard inputs if you ever click outside of the play window. Toggling FULL SCREEN mode or hitting TAB seems to restore keyboard function if you lose it.
Build a laboratory in the abyssal depths!
You must manage resources and defend the lab from abyssal creatures.
Played with the mouse and arrow keys. Game made in 48 hours for Ludum Dare 48!
I made a highlight of the whole game dev process on youtube, you can view it here:
TIPS:
You want to build some Ore mines as soon as possible on the glowing ore to the northwest of your base, then build a smelter to turn the ore into metals. Build a supply depot to increase your storage capacity after that. The ore will eventually run out, so you will need to explore to find larger deposits elsewhere.
Once you have some metals built up, you want to build Crew Quarters to increase your worker population. The more crew you have, the more supplies you receive every few minutes.
Build both power generators and power cells when your power runs low. Once you have more metals, you can build a larger Power Plant.
You can select buildings and then click the SALVAGE button to destroy them and get some of their resources back. Do this with ore mines when their ore runs out (they show their remaining ore with a green meter).
You can salvage some free supplies from scattered crates found on the sea bed. Build near the crates to capture them, then you can Salvage them just like any other structure you own.
There is a big spooky boss hidden to the far north of the map.
You can use corridors like walls to protect gun turrets from enemy attacks. This is especially important for laser turrets, as those cannot hit enemies that are too close to them! The regular turrets also cannot shoot the smallest crabs when they are too close.
Download
Click download now to get access to the following files:
abyssalLabSource.zip
7 MB
Comments
Log in with itch.io to leave a comment.
This game is essentially yorg.io but with facy graphics/special extras, but it is just as fun :)
For some reason, I cannot seem to explore the map with the arrow keys, as I was prompted to.
I ended up downloading the game to fix this, but pressing tab would sometimes help on the webpage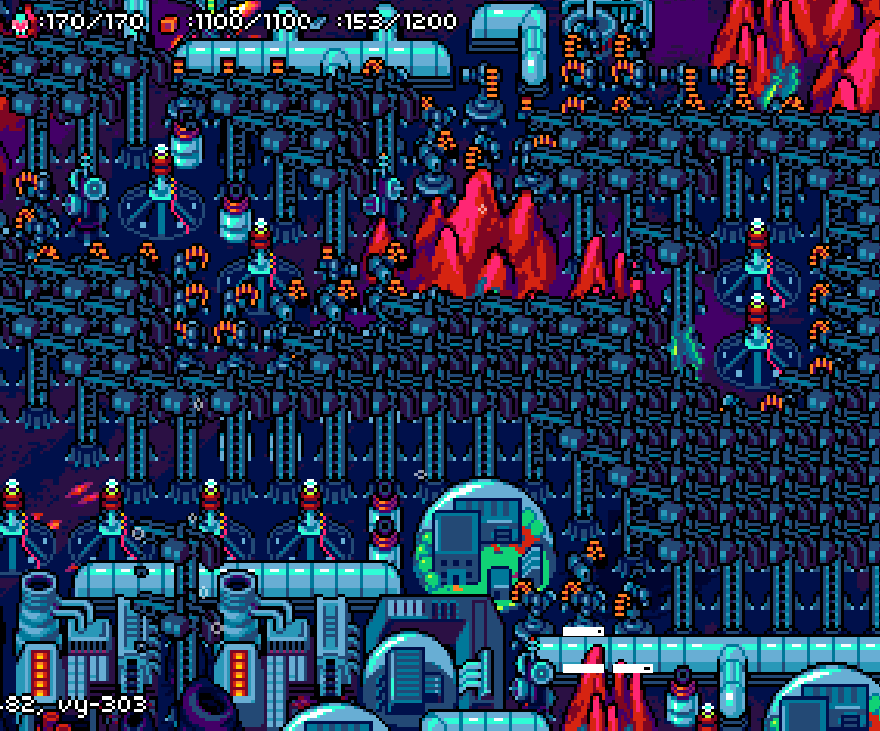 On the third run, I was ready for it.
Wished I could smelt quicker, but honestly a great game and fun challenge.
Cool, but i have no idea about crane and how to capture mountain or tubes (i connect it with corridor)
You cant capture the mountains or sea vents, those messages appear in error when you click! The game was originally supposed to have the ruins of existing buildings all around the map that you could capture and repair, but I didnt have time to draw ruined versions of buildings for that - and I forgot to exclude mountains and sea vents from being considered "buildings" when you click on them. Whoops!
What the crane does is it expand your buildable area by many tiles, to make it easier to build large buildings, or to build some things away from your other structures.
I still doesn't know how to capture immovables. "green connection" - how to get that?

The only structures you can capture in this build is the scattered crates, all other structures that say you can capture them are a bug. Capturing crates only allows you to "salvage" them for supplies.
The green connections is what you see displayed on a grid when you are building corridors, it represents the parts of your base that crew can walk through- some buildings need to connect to this, and others dont.
Hey I really like the art style to this one, what was the inspiration?
I picked a palette from the Aseprite palette list, it was called Bubblegum16, and I did some sketching with it while waiting for the jam's theme to be announced. No specific inspiration I can think of other than this. Probably older RTS games in general, like Command and Conquer?